VoIP Phone Services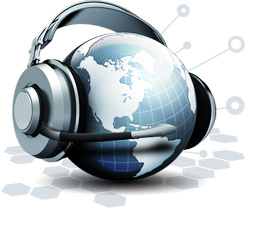 Voice over Internet Protocol or VoIP phone services are a key solution to solving your business's voice communication needs. iT1 Solutions offers a variety of VoIP services that can cut costs and grow with your business.
What is VoIP?
VoIP is a phone technology that allows for voice calls to be made and received over the Internet or an internal network. With VoIP phone services, voice calls are treated as data and are transmitted as packets over the Internet. Since these calls traditionally bypass traditional telephone networks, costs are reduced dramatically. This ideal business phone service not only serves as a low-cost platform for voice calls, but it also is used for more advanced voice transmissions such as Web and videoconferencing.

In a business setting, VoIP phone services become more complex than a traditional VoIP service for consumers. Businesses have multiple extensions and need more robust features such as call hold, call transfer, and conferencing. Business VoIP services are more robust than traditional VoIP services for consumers, offering numerous options, such as:
IP telephony – Robust VoIP-enabled services including communications, billing plans, and PBX- like features
IP communications – A step up from standard IP telephony, IP communications typically blends voice, data, and video and other business applications to enhance communications
Unified communications – A full solution that unifies all types of communication including voice, mobility, and video. Unified communications uses advanced technologies such as Session Internet Protocol to bring communications together into a simple, unified solution regardless of device type
Many businesses typically bypass the public Internet in favor of private networks for VoIP phone services. Routing VoIP over private networks gives businesses better control over the security and quality of their calls.


Benefits of VoIP Phone Services
Reduced costs – Bypassing traditional telephone networks by using VoIP phone services also means bypassing their costs
Robust features – VoIP phone services rival traditional PBX systems with robust calling features, auto attendants, mailboxes, and more. They can also add rich media features including instant messaging and videoconferencing
Portability – VoIP phones and their phone numbers and features are highly portable. They can be used virtually anywhere a suitable IP connection is available
Scalability – VoIP phone systems can grow with your business
Support for remote users – Whether you have employees in a single location, scattered across multiple branch offices, or working out of their homes, all logged-in users can send and receive VoIP calls. For example, when a caller dials your main number and enters an employee's extension, it doesn't matter if that employee is located in your main office, a branch office, a home office, or a car; the call will be routed to the employee
Centralized, web-based administration – Most VoIP systems are administered using a centralized, web-based interface. For organizations with multiple branches, VoIP simplifies administration dramatically by eliminating the need for individual branch-based phone systems
Custom VoIP Phone Services
iT1 Solutions has the capabilities to offer customer VoIP phone services that are tailored to your business's needs. Our VoIP technology provides businesses with reduced costs, quality voice communication, robust features, rich media, flexibility, scalability, ease of operation, and much more. The benefits of VoIP phone services are readily available to small and large businesses alike. However, with so many VoIP phone services to choose from, choosing the right VoIP solution requires careful consideration. iT1 Solutions works with you to gain a deeper understanding of your business's calling patterns and needs. From there, we determine a cost-effective VoIP solution that fully aligns with the way you operate your business. Contact us today to learn more about our VoIP phone services.

© 2013. iT1 Solutions, 1320 Elmwood Ave Ste C, Columbia, SC 29201
Terms of Use