Advanced Wireless Services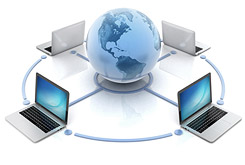 iT1 Solutions offers a variety of advanced wireless services including campus-wide, point-to-point wireless networks as well as smaller, secure wireless networks. We can even help you set up a Wi-Fi hotspot for your guests.

We provide comprehensive wireless services, beginning with gaining an in-depth understanding of your wireless needs and goals. Our consultants work closely with you to learn about your business and your wireless requirements. We then conducts site surveys and recommend wireless solutions that align with your organizational strategies. Once the wireless plan has been thoroughly developed and fleshed out, our team gets to work. We are able to handle all aspects of the implementation including design, parts procurement, installation, configuration, security, and support.

Our wireless services are appropriate for small, medium, and enterprise businesses. Whether you need a small, secure wireless network for a branch office or a complete, campus-wide, point-to-point installation for your company headquarters, we have the wireless networking expertise and talent to get the job done correctly and securely.
Our advance wireless services are ideal for:
Small businesses and branch offices
Medium-sized businesses
Enterprise organizations
Hotels
Hospitals
Government agencies
Museums
Schools
Manufacturing facilities
Downtown tourist districts
iT1 Solutions is committed to remaining on top of the latest wireless innovations. Whether you're interested in in-building cellular amplification, outdoor bi-directional amplification, Wi-Fi, microwave, Bluetooth, wireless wide area networks, 3G and 4G networks, municipal wireless Wi-Fi mesh zones, or any other wireless services, we're here to help.
Benefits of Wireless Networks
Wireless networks are necessary for businesses to stay connected via mobile technologies such as laptops, smartphones, and tablets. Whether you're looking to setup your office on a wireless network for internal purposes or create a hotspot for you clients, secure wireless networks deliver several advantages including:
No need for expensive cabling – Obviously, wireless networks do not require wires. Thus, expenses related to cabling your building are completely eliminated
Convenience – Once your secure wireless network is setup, your mobile workers can quickly and conveniently come and go as needed. Laptops, tablets, and other mobile devices can be configured to automatically connect whenever the network connection is detected. If you offer free Wi-Fi to your guests, you can issue temporary login credentials and differentiate your brand
Scalability – Wireless networks make it easy to add new users to the network, without requiring additional cabling like wireless networks. This contributes to lower costs over time and allows your network to grow with your business
As with traditional LANs and WANs, wireless networks must be properly secured against hackers, computer viruses, spyware, and other threats. iT1 Solutions specializes in creating secure wireless networks and can help you make the best choices to protect, monitor, block, and recover from intrusions.

We're committed to helping businesses of all sizes leverage the latest technologies, including wireless, to their full advantage. Contact us today to learn more about our array of advanced wireless services.

© 2013. iT1 Solutions, 1320 Elmwood Ave Ste C, Columbia, SC 29201
Terms of Use