Managed IT Services
Managed IT Services – A Cost-Effective Choice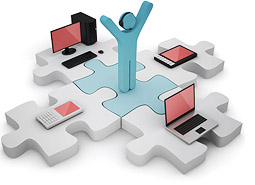 Managed IT services are vital to a business's success, but the skills and expertise of on-site IT professionals and IT departments are expensive. These professionals typically work to maintain your business's technology, making sure that everything IT related runs smoothly. However, there is another, more cost-effective solution for IT support. iT1 Solutions offers managed IT services for your business, eliminating the high costs associated with traditional IT departments and services.
What are Managed Services?
iT1 Solutions' managed IT services involve the outsourcing of IT to us so that we can take over the day-to-day tasks of managing, monitoring, maintaining, and troubleshooting selected IT systems. We are able to take over the routine management of your network, server, and desktop computers. We will actively monitor the system, install and manage anti-virus programs, host email, manage firewalls, perform regular data backups, update operating systems, apply software patches, as well as other routine IT tasks.

We typically offer remote IT support and managed IT services on a subscription basis. We have a variety of IT services and service levels, allowing you to choose a package that is right for your business's needs. Managed IT services are ideal for small and mid-sized businesses that want to focus on running their businesses rather than dealing with routine IT tasks.
Benefits of Managed Services
Managed IT services are the perfect IT solution for companies that do not have IT departments. By offering managed IT services, we are able to ensure the health of your system without the need to add staff or have expensive on-site service calls. By offering remote IT support, we are often able to detect and resolve potential problems before the manifest.
In companies that lack an IT department, managed IT services ensure the health of the system without the need for adding staff or expensive onsite service calls
Less downtime, fewer errors, and greater peace of mind due to a proactive approach to system maintenance
Fewer crashes and repairs translate into lower IT costs
You pick the managed IT services that make sense for your business
More time to work on what you do best
Managed IT Services With iT1 Solutions
iT1 Solutions offers a variety of managed IT services that are suitable for businesses of all sizes. While numerous service providers offer managed IT services such as network monitoring and backup and recovery, iT1 Solutions puts your business's needs first. You may only need a single service or you may need a package of services. Either way, we're committed to developing a flexible, cost-effective managed IT services solution that works for your business, technical, and budgetary requirements.
Our Managed IT Services Include:
Network monitoring and management
Server monitoring and management
Desktop monitoring and management
End-user support
Performance tuning
Software installation and management
Computer security management (virus/spyware detection, blocking, and removal)
Data backup and recovery
Online storage
And more...
In addition to the managed IT services listed above, iT1 Solutions is also able to help you with any industry-specific needs you may have. Whether you need a secure online repository for legal documents or an encrypted solution that complies with healthcare regulations, you can count on iT1 Solutions. Contact us today to find out more about our many managed IT services and solutions.

© 2013. iT1 Solutions, 1320 Elmwood Ave Ste C, Columbia, SC 29201
Terms of Use