Cloud Services
Cloud Computing — Your Flexible IT Solution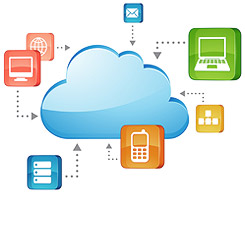 iT1 Solutions offers businesses of all sizes a better way to leverage their technology: cloud computing. Cloud computing simplifies IT by providing cloud software and cloud applications to all of your business computers. Rather than installing a suite of software on one computer at a time, cloud computing allows you to only install one application. There are many cloud computing services. iT1 Solutions can help you wade through the many options, choosing the correct solution for your needs.
How Cloud Computing Works
As your cloud computing service provider, iT1 Solutions manages everything in regard to cloud services for your business. We handle the infrastructure, support, backups, upgrades, security, and maintenance. We also provide the cloud software that your company needs.

Rather than purchasing and installing a word processor, accounting program, or customer relationship management application locally on your computer, you are able to subscribe to a cloud service and use the software online. We'll make sure that your data is privately secured yet readily accessible from any computer.
Applications of all types can be hosted online including:
Office productivity software
Business applications
Customer relationship management software
Lead management software
Accounting software
Human resources software
Collaboration tools
Email marketing software
Transaction processing software
Enterprise asset management software
And more...
Benefits of Cloud Computing
Cloud computing is a cost-effective choice for your business, delivering cloud applications that your company needs in order to function properly. Cloud services eliminate the need for capital investments in software, infrastructure, and technical staff. Cloud computing allows you to pay for the capacity you need, providing a greater flexibility and control over your budget.
Cloud Computing Benefits Include:
Anytime, anywhere access
Minimal configuration required
No complicated IT tasks
Minimal upfront costs
Pay as you go
Automatic updates, upgrades, and system maintenance
Easy to add or reduce capacity as needed
Cloud computing is an excellent option for smaller businesses, leveling the playing field by providing access to robust cloud applications that normally would not be affordable on such a small scale.

There are also cloud computing benefits for larger businesses, such as anytime, anywhere access, centralized data, real-time collaboration, automatic backups, global reach, streamlined processes, standardization, business continuity, and reduced IT costs.
Private Cloud Computing and Virtualization
In addition to cloud software, many enterprise organizations are finding benefits to building their own private clouds. Private clouds make better use of existing resources, creating a firewall and ramping up security. While "public" clouds deliver applications over the Internet, private clouds are hosted behind the company's firewall or at a third party provider's data center.
Cloud Computing Through iT1 Solutions
When it comes to cloud computing, iT1 Solutions will work with you to determine the perfect cloud option for your business. Whether you need cloud software and cloud applications for your employees or you're in need of more complex and refined private cloud computing, iT1 Solutions can provide it for you.

We will carefully assess your needs to find out where you are right now, where you want to be in the future, and which applications would best address current and future goals. Once we understand your business goals and technology needs and determine that cloud computing is the ideal choice, we recommend services and platforms that will have the greatest positive impact on your business while also delivering an outstanding value. We will manage the entire process, allowing you to focus on your business rather than IT. Contact us today to find out more about our cloud computing services.

© 2013. iT1 Solutions, 1320 Elmwood Ave Ste C, Columbia, SC 29201
Terms of Use