Exchange Email Hosting
iT1 Solutions offers Exchange Email Hosting through Microsoft Exchange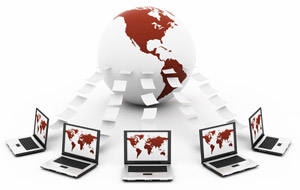 iT1 Solutions makes Microsoft Exchange Hosting a readily available service that delivers fast, spam-free email to your team without the hassles and costs of managing your own messaging servers. With an exchange email hosting plan, your entire team can access their email boxes from their workstations, laptops, and mobile devices. Our exchange email hosting plans are secure, fast, reliable, and affordable.
What is Exchange Email Hosting?
Exchange email hosting through the Microsoft Exchange Server is an email platform widely embraced by businesses of all sizes. In a typical implementation, the exchange server software is installed on a central server. Individual users access their email through Microsoft Outlook which must be installed on their workstations. Exchange email hosting provides a more robust email experience than basic POP3 email because of its advances features such as shared calendars, contacts, and task lists.

Managing your exchange email server and a network of email clients requires a great deal of resources. Not only must the server itself be managed and maintained, but each client computer must have Outlook installed and routinely maintained. Any time a new employee joins the company or one leaves, someone must setup or remove the employee's email account.

Choosing exchange email hosting through iT1 Solutions eliminates the upfront capital expenses associated with the exchange server on site. It also eliminates routine IT costs associated with maintaining, securing, and troubleshooting exchange email and desktop clients. In addition, adding and removing users is a simple process that no longer requires your IT involvement.
Benefits of Exchange Email Hosting
Affordable alternative to managing your own exchange email server – No upfront hardware or software costs and reduced reliance on IT
Scalable and affordable – Priced per inbox, exchange email hosting is both cost-effective and scalable
Improved access – Exchange email hosting allows for anytime, anywhere access to email using virtually any device
Central storage – All emails, calendars, tasks, and related information are stored online, allowing for anytime, anywhere retrieval
Secure – Your incoming and outgoing messages go through a number of security, anti-virus, and anti-spam filters on our end. We help to keep your network safe by blocking threats and spam before they can reach your network
Reliable – Our team constantly monitors and maintains hosted servers to ensure availability. In addition, we take care of all backups, updates, and security patches
Easy management – You control everything from an intuitive, easy-to-use, Web-based console
Exchange Email Hosting With iT1 Solutions
Choosing iT1 Solutions to provide exchange email hosting for your business reduces costs and allows you to enjoy its benefits without all of the work on your end. Contact us today to learn more about exchange email hosting.

© 2013. iT1 Solutions, 1320 Elmwood Ave Ste C, Columbia, SC 29201
Terms of Use